Enhanced desktop functionality delivers even quicker infrastructure access
Organizations leverage Banyan's desktop app as a critical piece of their Zero Trust implementation. From Device Trust to one-click service access, the Banyan app helps tie the security benefits Zero Trust to an access experience that cements employee buy-in. Over the last 6 months, we've introduced support for new service types such as Kubernetes and RDP. However, the onboarding and access flows of Banyan services have remained largely the same.
Today, we've released a brand new look and feel for the Banyan app as well as multiple features that enable administrators to quickly and easily make additional infrastructure available to their users without sacrificing security. For end users, they enjoy one-click access to specific or groups of infrastructure. Let's take a look!
Service Bundles
Imagine you are onboarding a recently hired developer, Sarah, onto a project to develop a new app called "Photon". How do you give her access to the exact infrastructure and web services she needs? Service bundles allow seamless grouping and delivery of your Banyan-protected services without over-provisioning.
An admin simply selects the relevant databases, web servers, and application servers for project Photon into a service bundle and makes them available to Sarah. Once Sarah has registered her device using the lightweight Banyan app, she can quickly navigate to the Photon service bundle and connect to all of its individual services with a single click (shown below). No wasted time here.
Update 09 Sep 2021: User-defined Service Bundles are now available! With Banyan desktop app v2.3, end users can now create their own service bundles within the app, and the bundles will persist across all of the user's registered devices.
Similarly, when new people join the team, they don't need to play "20 questions" to figure out which resources they need to do their job. Simply adding them to the right group gives them near-instant access to everything they need to be productive.
Conversely, when team members depart, being removed from the group safely and securely removes their access.
Autorun
Protecting resources with Banyan gives customers the ability to ensure secure access to those resources with short-lived certificates. Historically this has meant end users having to "connect" to individual services each day when they login. Now users can select services to automatically connect when the Banyan desktop app is launched. If the user does not have a valid short-lived certificate, they will be guided through an Identity Provider login flow to obtain one.
Granular, least-privilege access with a single-click connect experience that is faster than a VPN!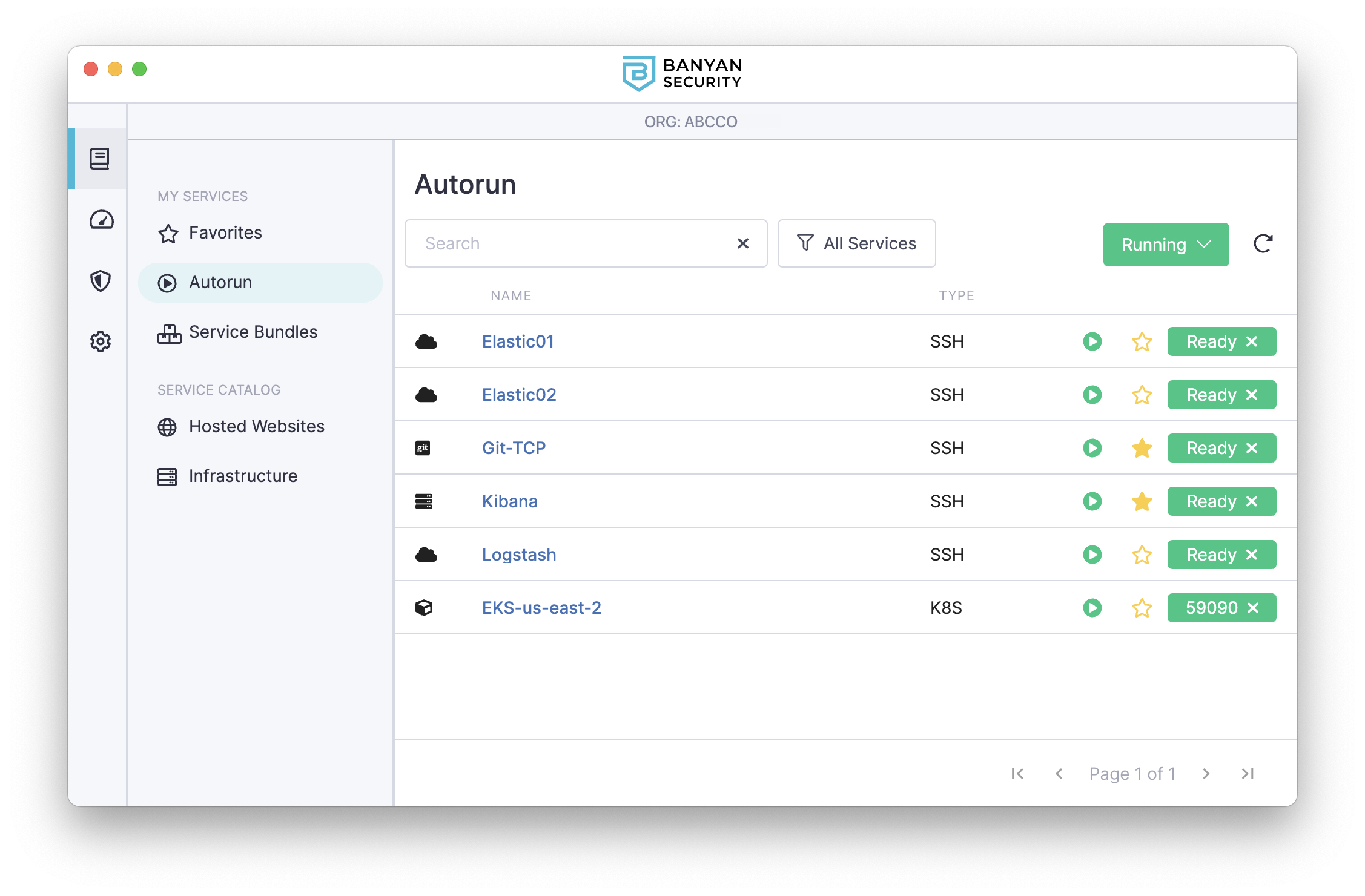 Favorites
Now users can "bookmark" commonly used applications and services in one place for quick access.
Get Started with Test Edition
The new Banyan app is available for macOS and Windows today! If you aren't yet a customer, you can get the Banyan solution for free (no credit card, up to 50 users) to use in your own environment today via the Banyan Security Team Edition, or simply check out the web-based demo.